The past two weeks of my life in Singapore has been filled with endless activities with hardly any time scheduled in to just take a deep breath. We've visited a number of hot spots around the country including Chinatown, Little India, Arab Street, Sentosa Island, Pulau Ubin, and an endless number of restaurants and hawker stands.
At the start of this program, the entire class practically did everything together, but like I expected, we've begun breaking down into smaller groups of friends and doing our own separate little activities.
Oh yeah, and we've finally gotten into the groove of waking up every morning at nine o'clock for class. I take notes in class and do the assignments and all.. but honestly, so far the class almost seems like a joke and isn't very difficult at all. I still feel like I'm here on vacation more than school, but with all the money my parents have invested in this program, I'm trying really hard to get into the mentality of making the most that I can out of this trip! But so far, the vast majority of what I've been getting out of it are a few more pounds of good food!
And without further adieu, photo updates!
(click photos to view larger images)
A day at the beach at Sentosa Island!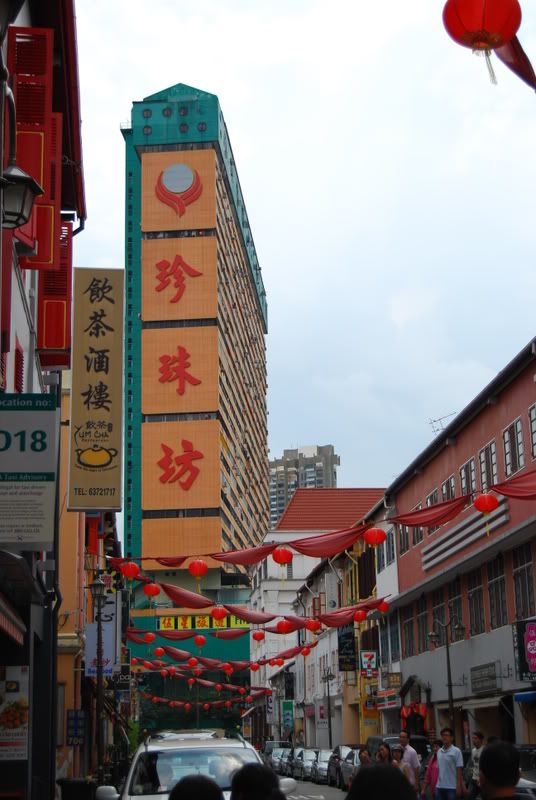 Chinatown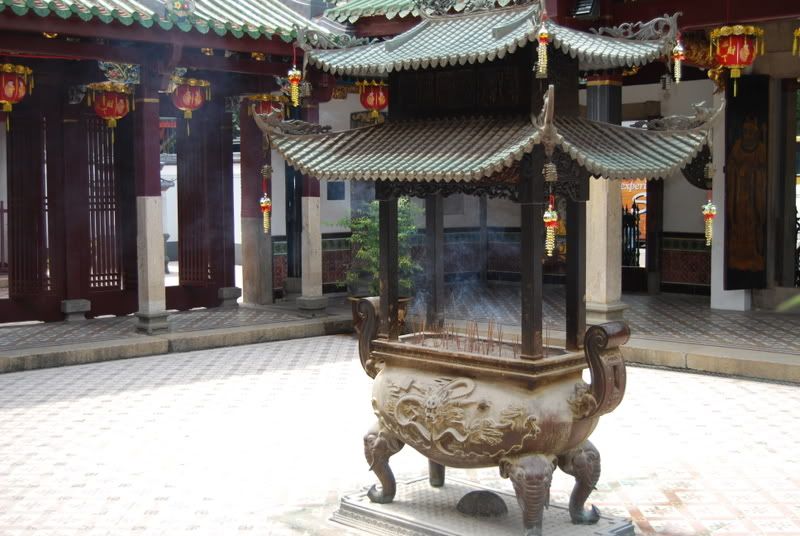 Priittyy temple
WARNING! Mouth-waterfalling photos ahead!
This was our lunch in Chinatown paid for by our program: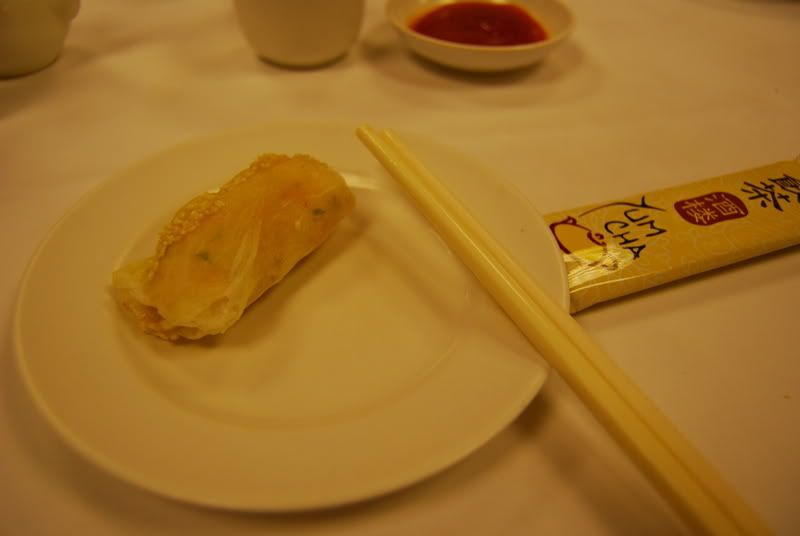 Don't know, but it was good.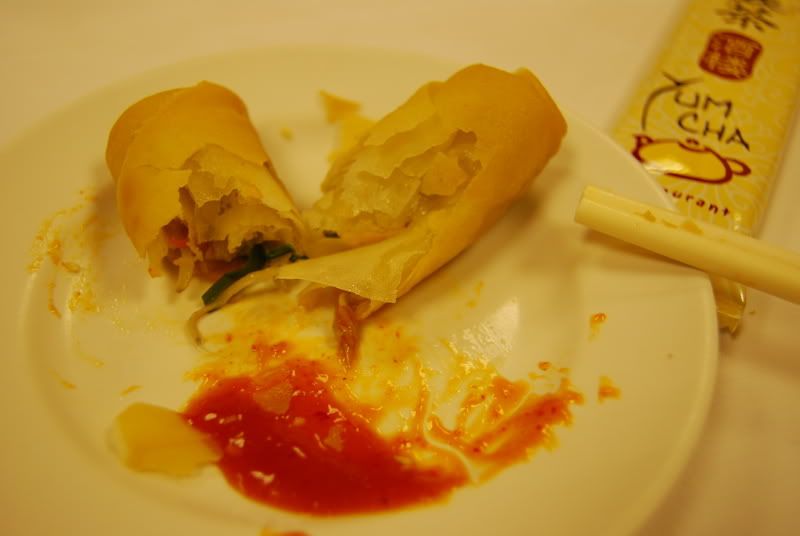 Egg roll.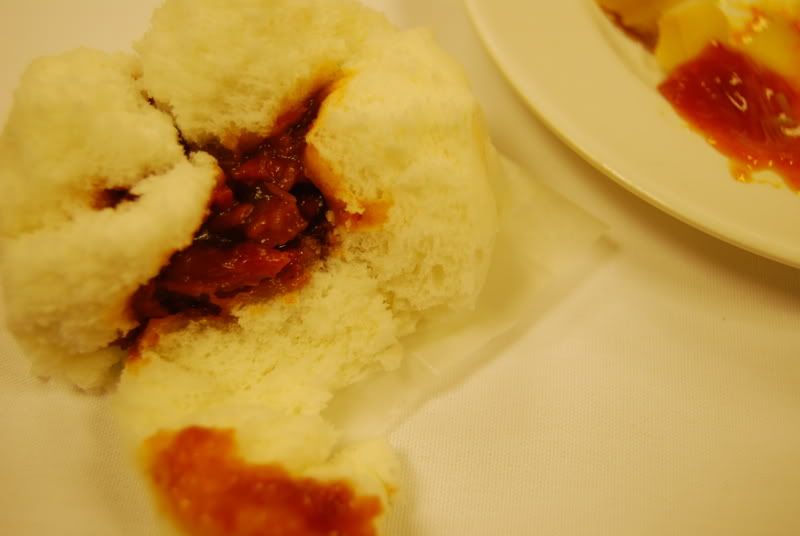 Cha Siew Bao! BBQ pork bun MY FAVORITE dim sum dish.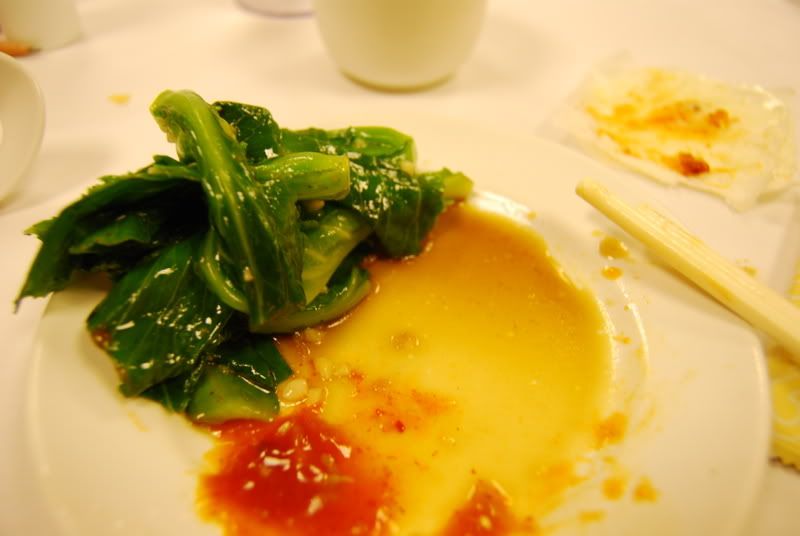 Garlic flavored veggies. =L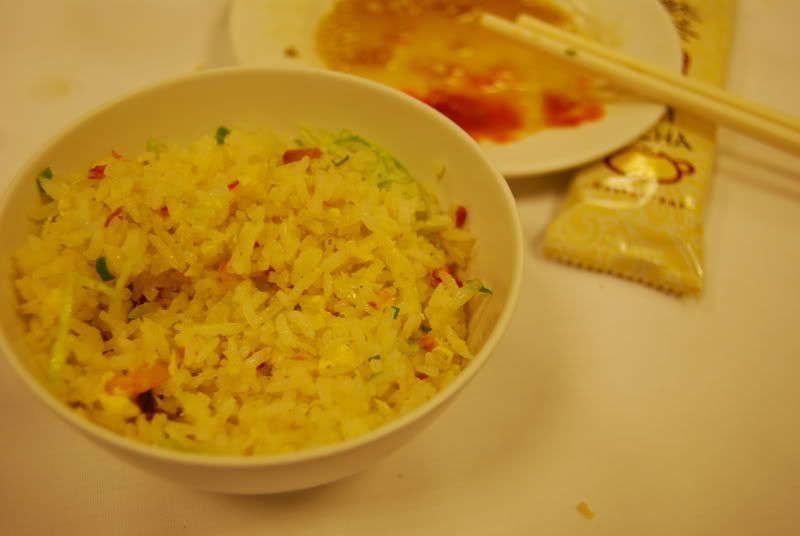 Fried rice.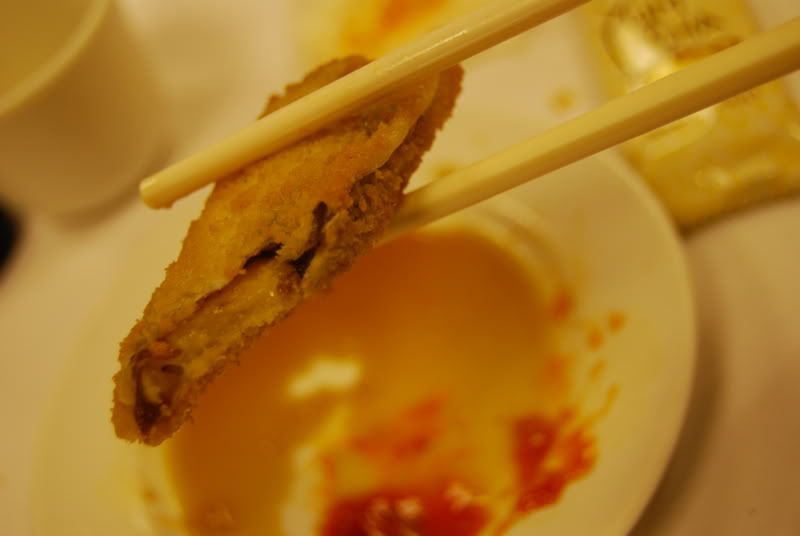 Banana fritter!! had red bean in it too SO GOOD!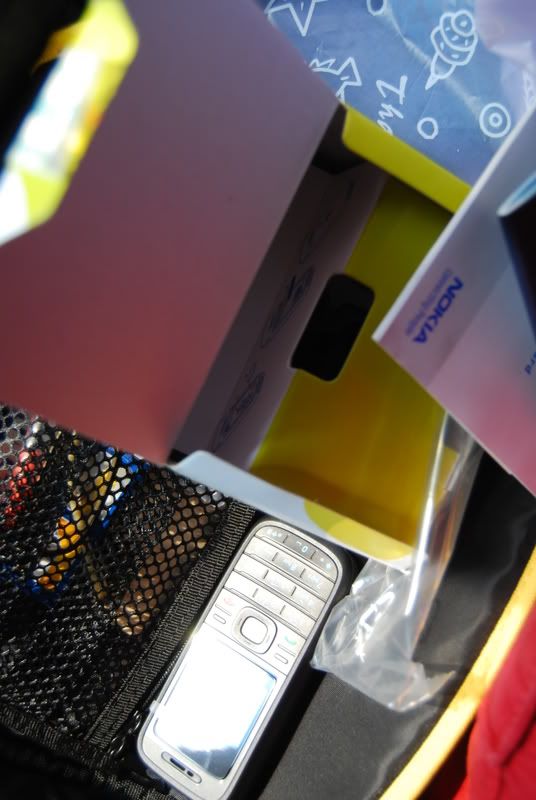 Photo of our phones when we finally got them.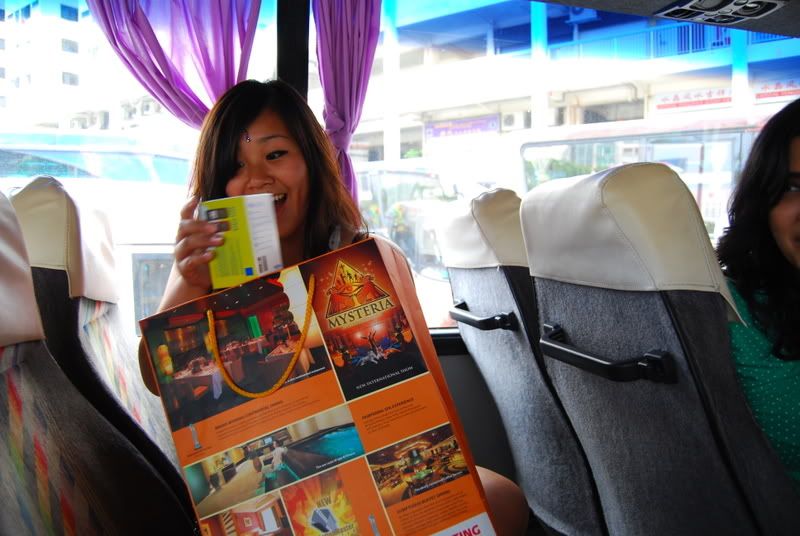 Mary is so excited about our new phones~!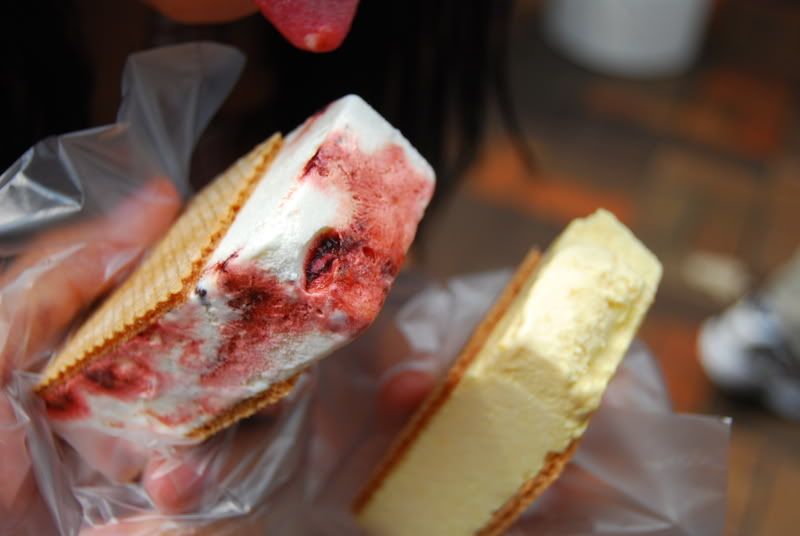 GOLD in between two waffle crackers. Only about $0.75 USD for this!! And that's Felicia's tongue reaching for my gold before I shot her.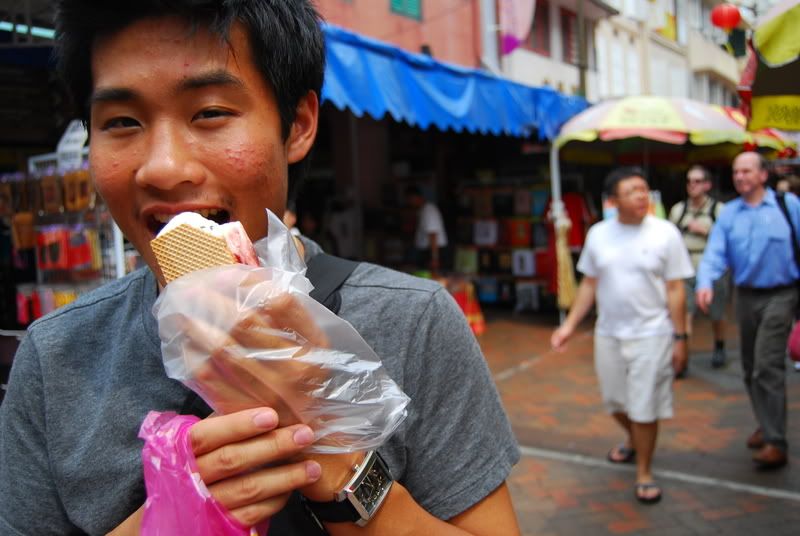 I was so involved with my ice cream that it dripped on my SLR camera and I ended up wrongfully blaming Natalie's ice cream for it..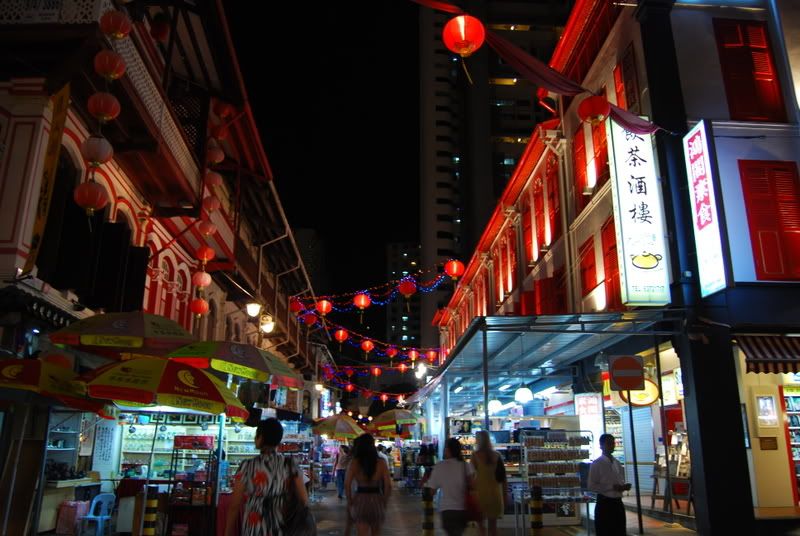 Chinatown at night.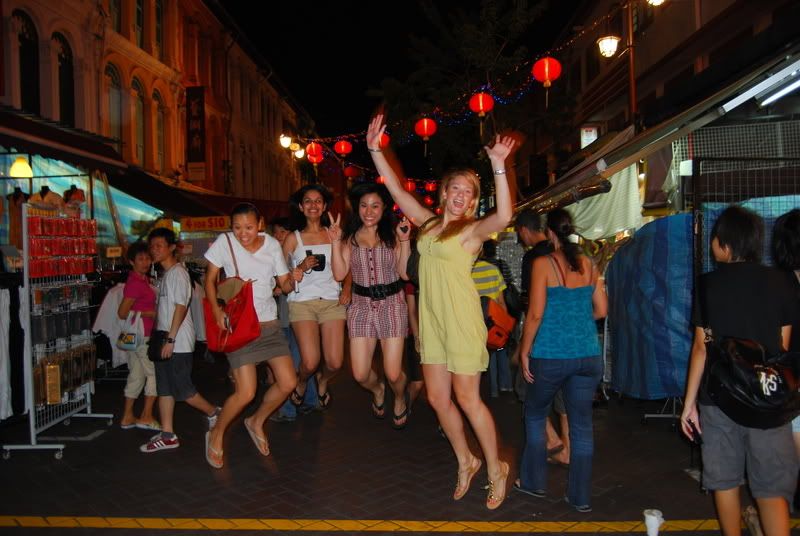 Georgie startled the girl next to her into dropping her drink on the floor..funny stuff! ..but poor girl..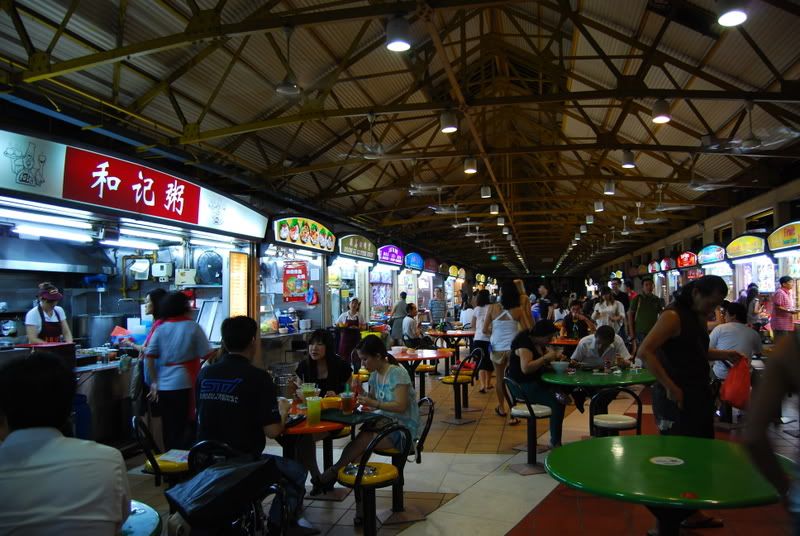 Hawker stand amazingness.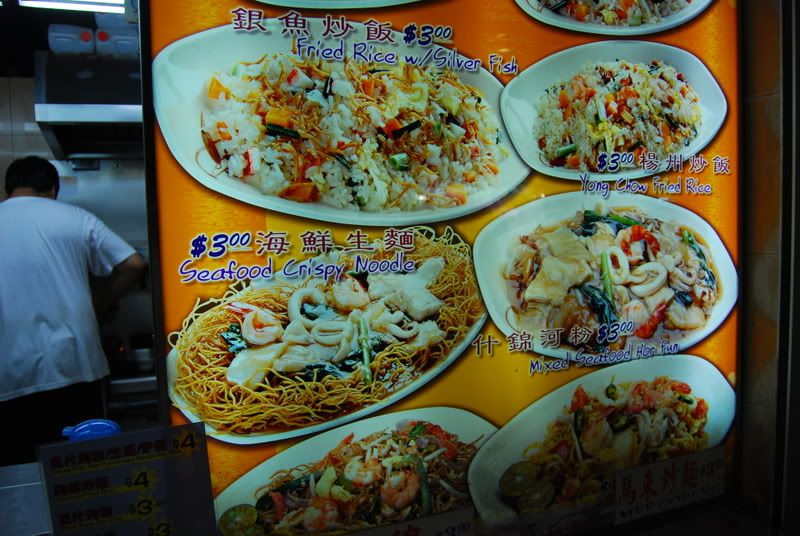 Now you know why hawker stands are amazing--and these prices are listed in Singapore currency which is about 3/4 that of American! I ended up getting the Seafood Crispy Noodle.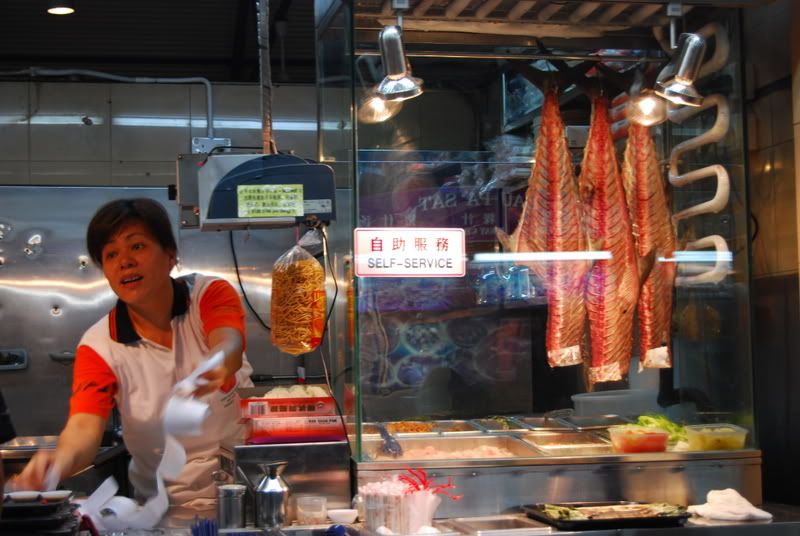 Hawker stand lady.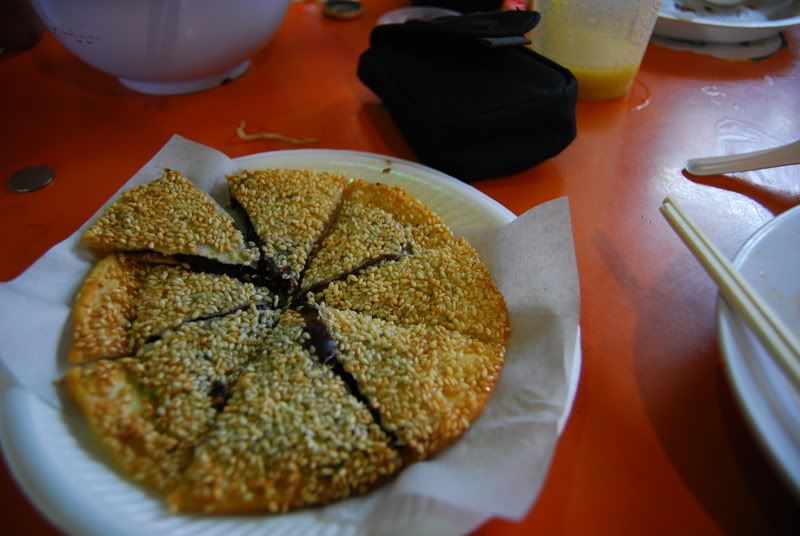 Fried red bean dessert with sesame on top.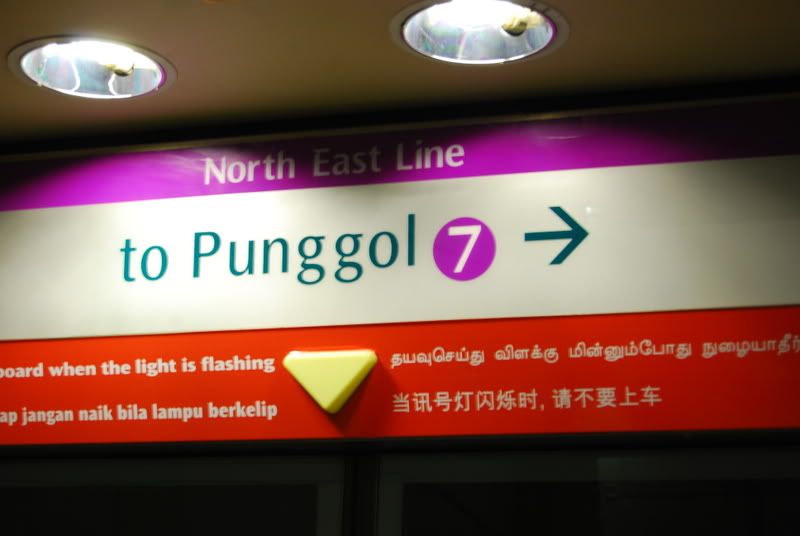 The platform that gets us to Chinatown.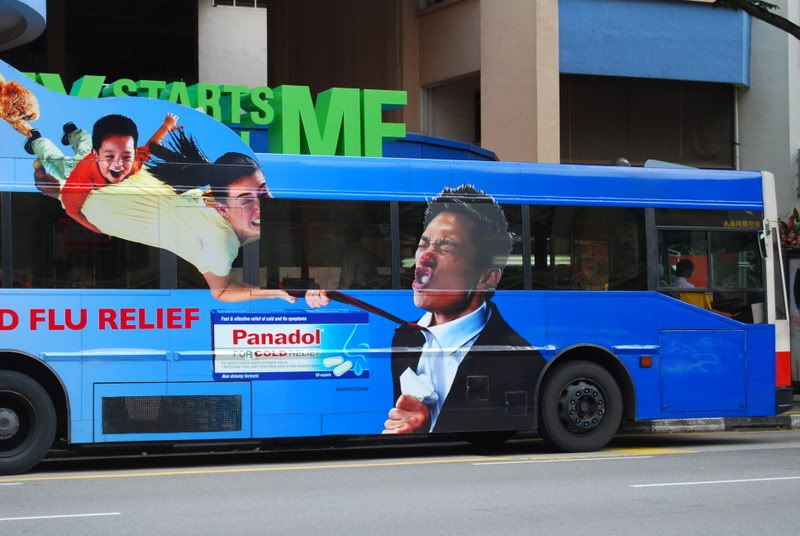 Singapore's transit bus ads are incredibly elaborate! Love seeing them.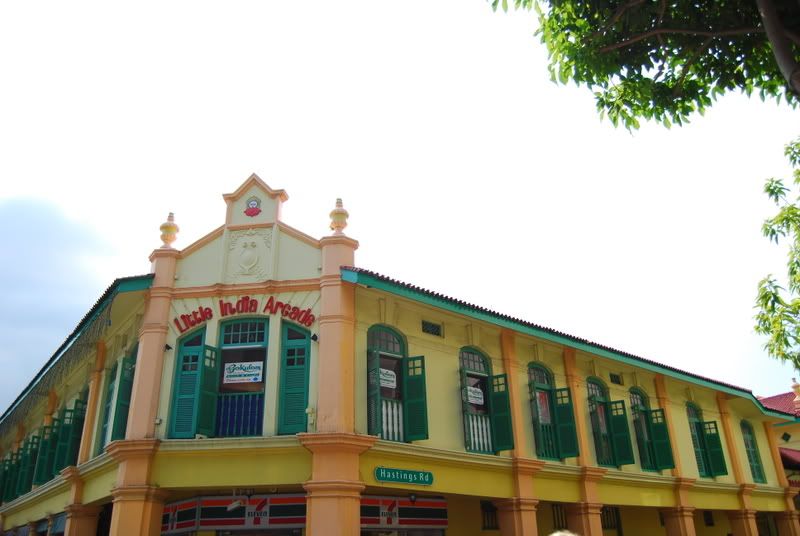 Little India.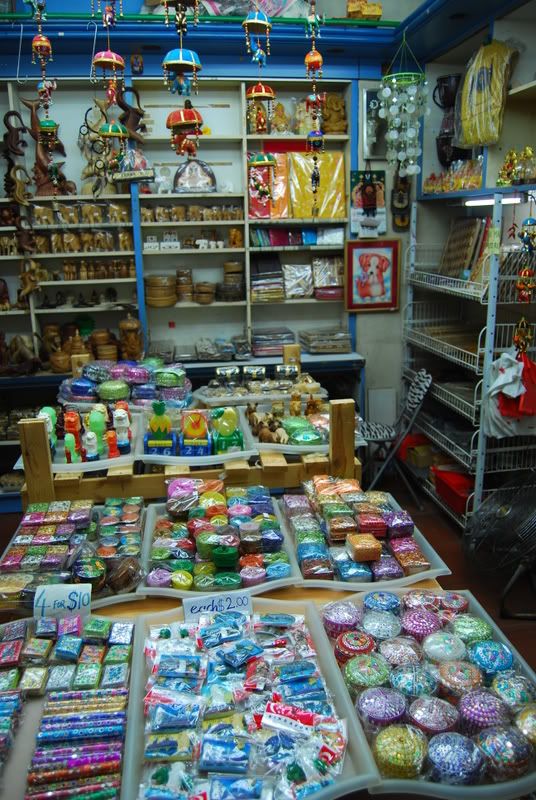 Shops at Little India.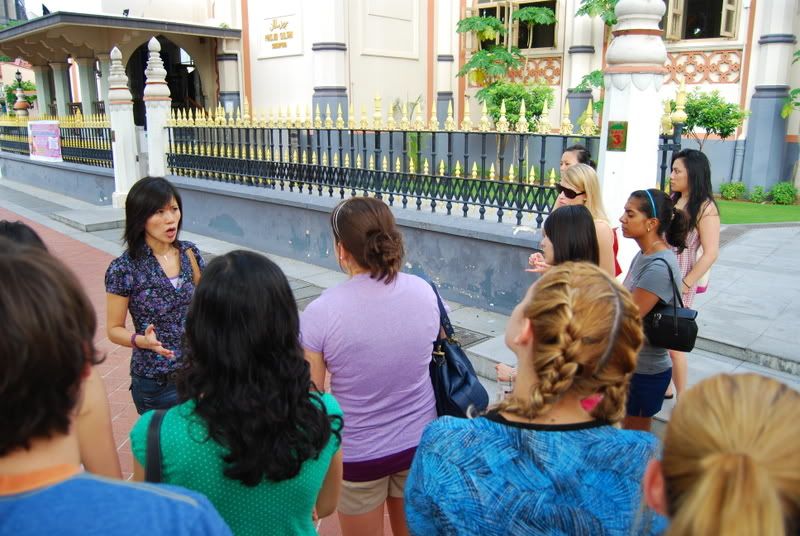 Tour guide telling us something.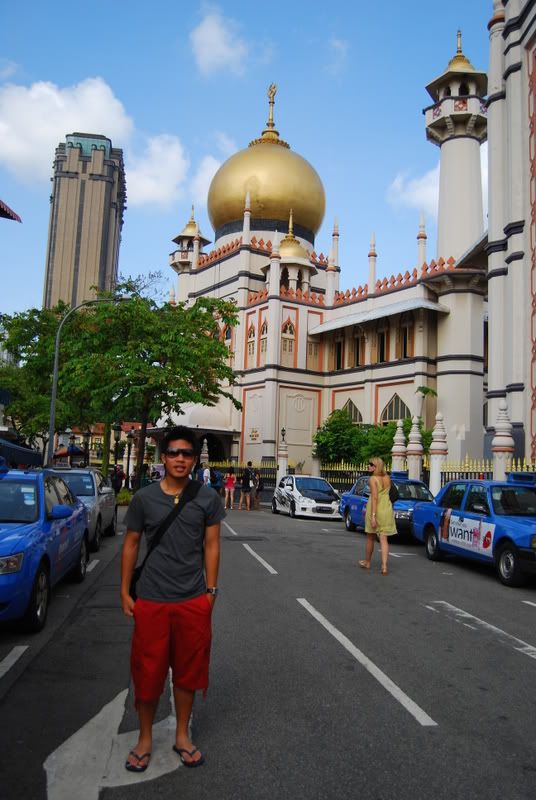 Funfun!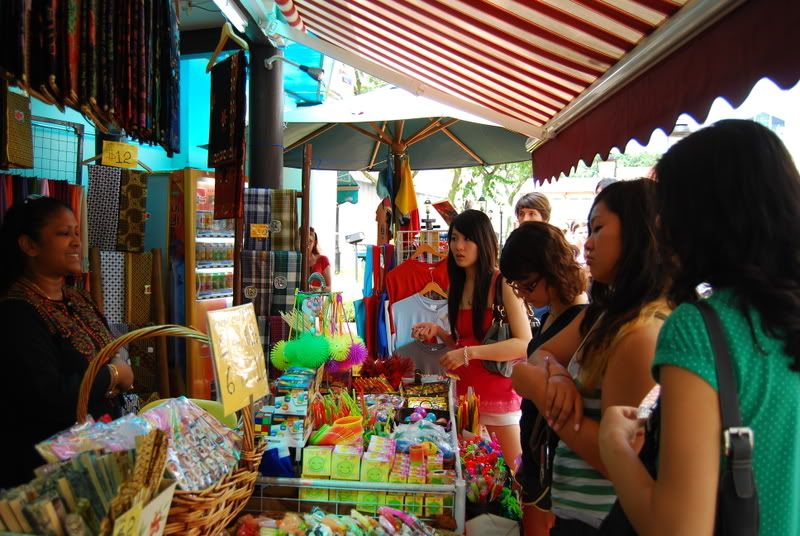 Bargaining at Kampong Glam.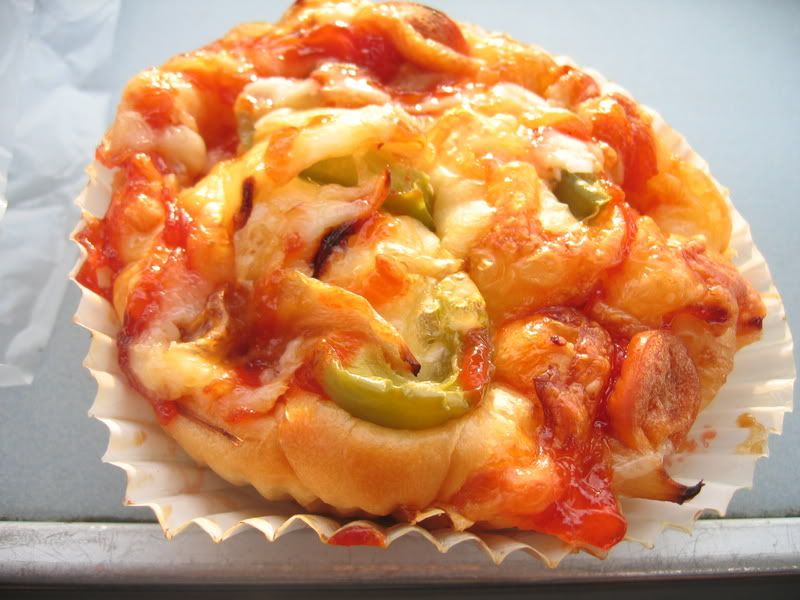 More BREAD TALK: Pizza bread.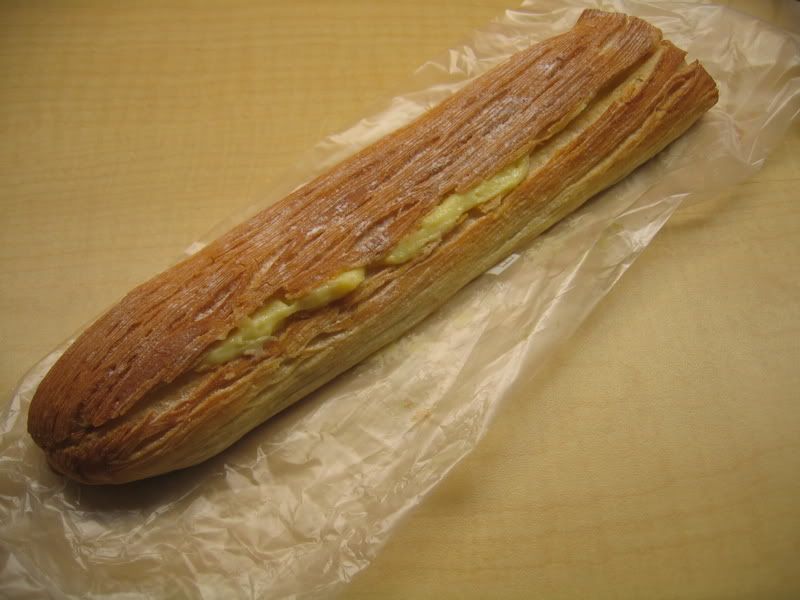 BREAD TALK: Custard filled pastry.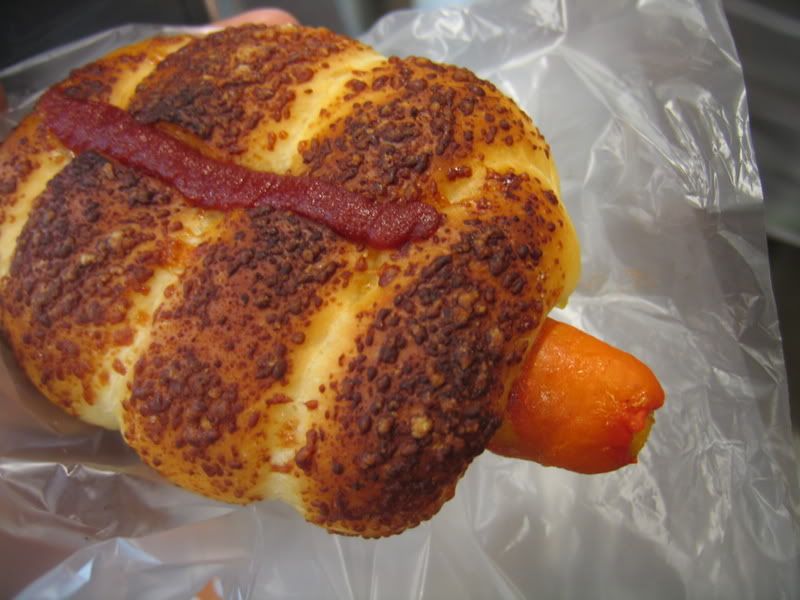 BREAD TALK: Hot dog bread with tomato sauce.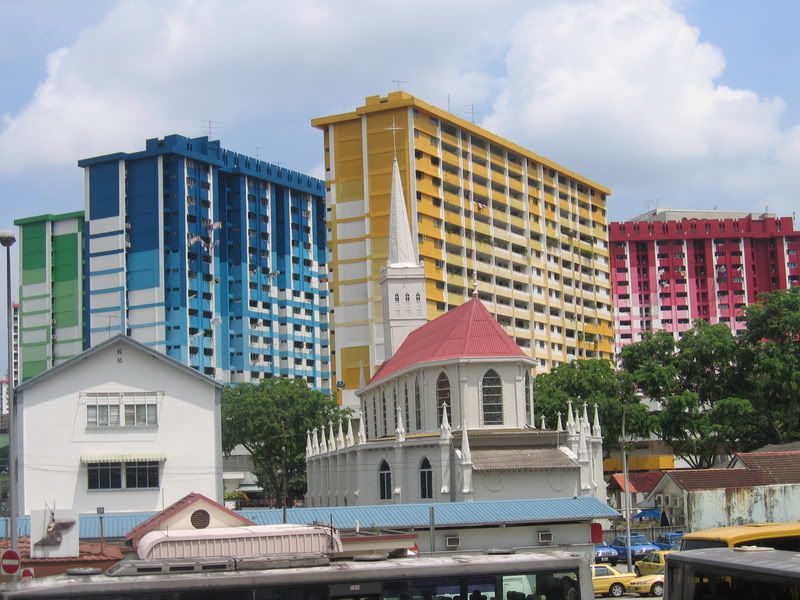 Apartments of Singapore.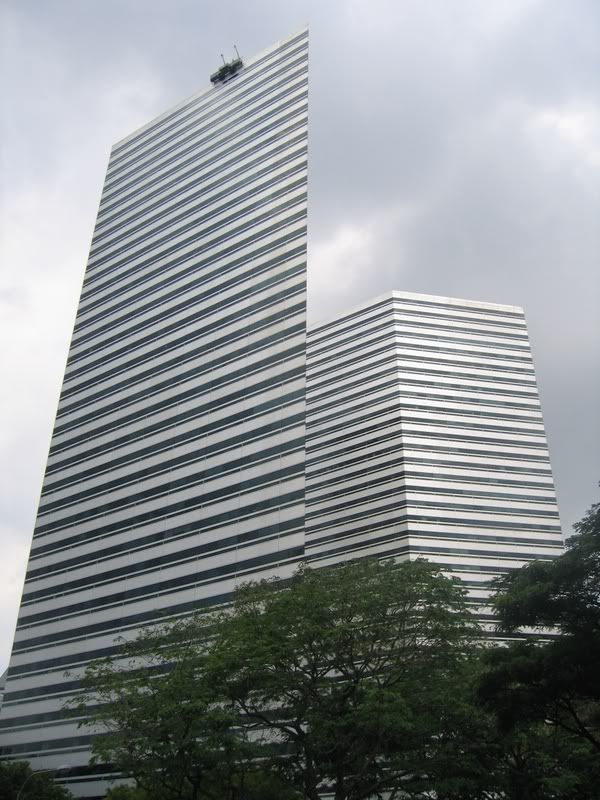 If you view this building from a certain side, it looks like flat pieces of paper.. love this building.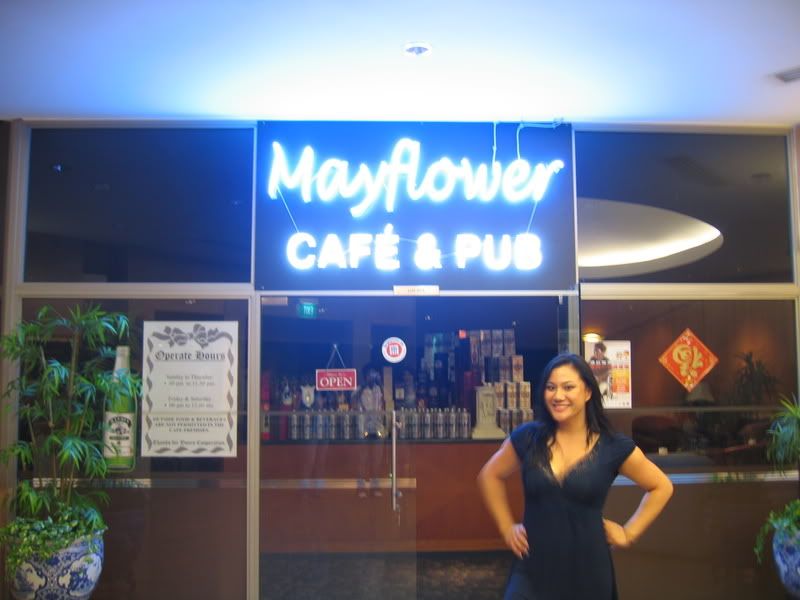 We discovered a BAR ON CAMPUS.. the owner is an awesome guy and really nice to all of us. On top of that, the alcohol is the cheaper than most places we've been to in Singapore, and there's FREE Karaoke!!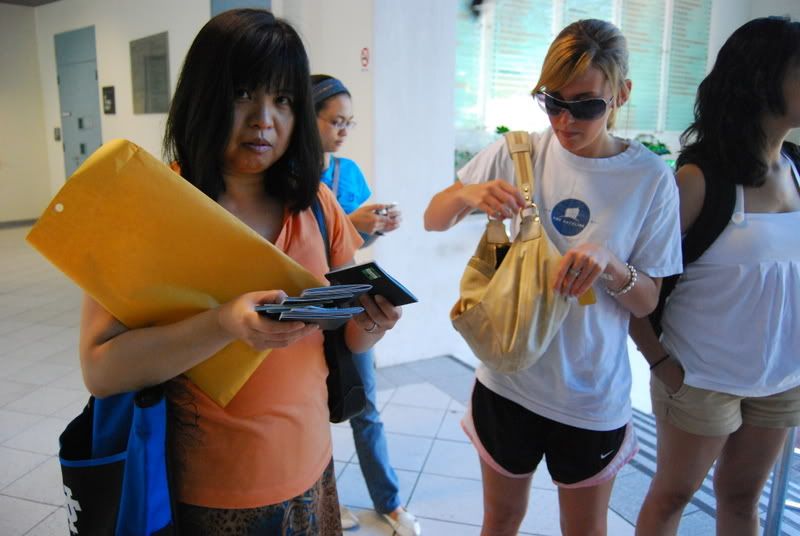 Dr. Lee designated me to be the class photographer so I could awkwardly/creepily take photos during class and class excursions.
Everyone at Clark Quay.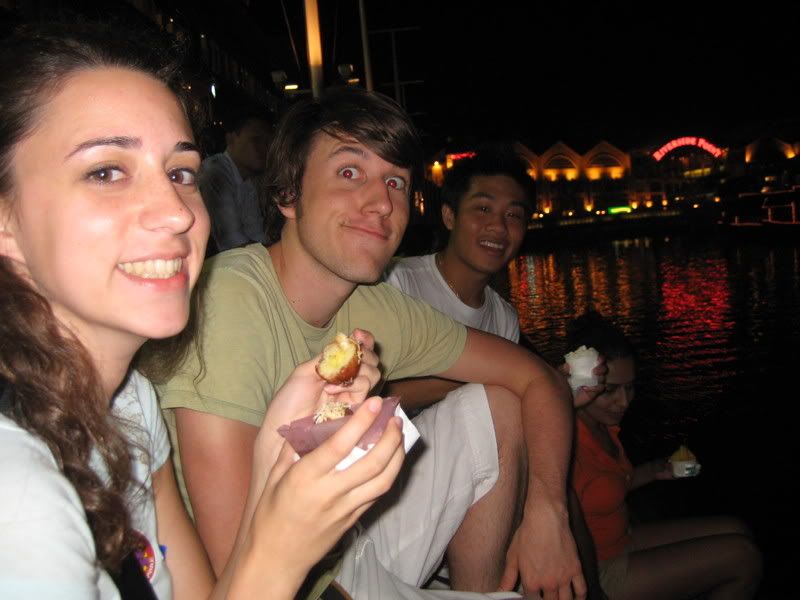 Our class having a romantic time together eating ice cream at Clark Quay.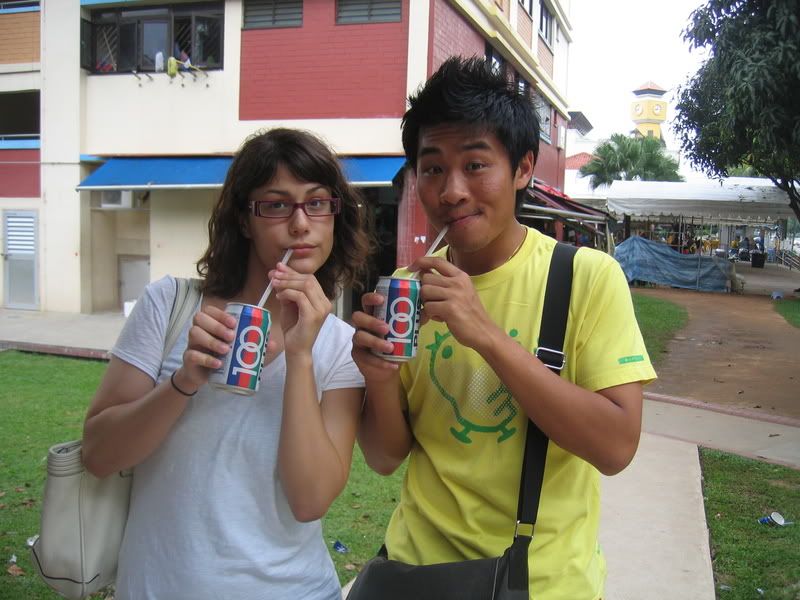 Sippin' on some 100 plus.. Singapore's version of Pocari Sweat. Natalie givin' some attitude..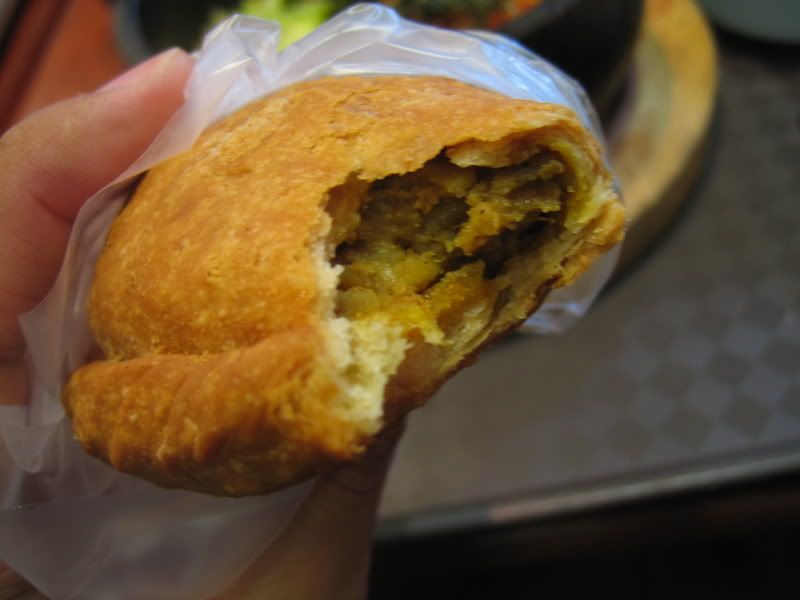 CURRY PUFF.. hah so good......
Singapore's famous Chicken Rice! It was everything I imagined it to be..and MORE!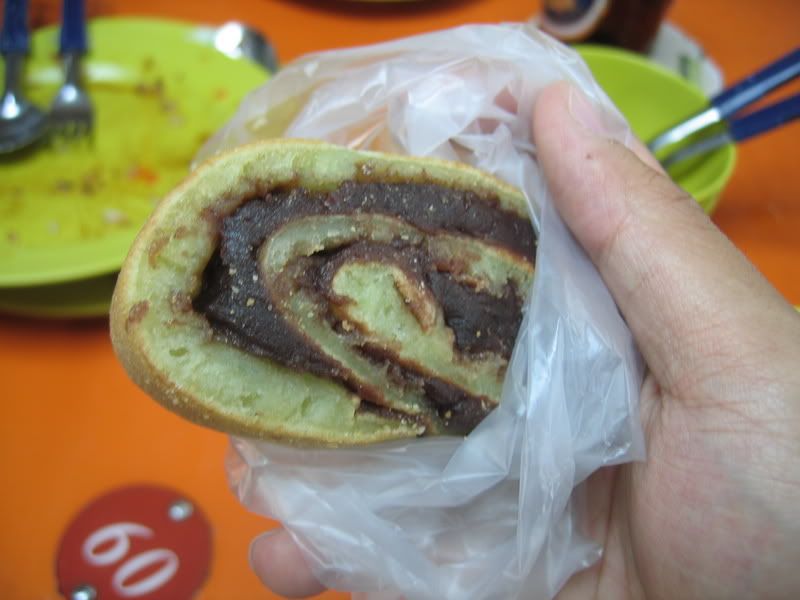 Red bean dessert..less than $0.50 cents!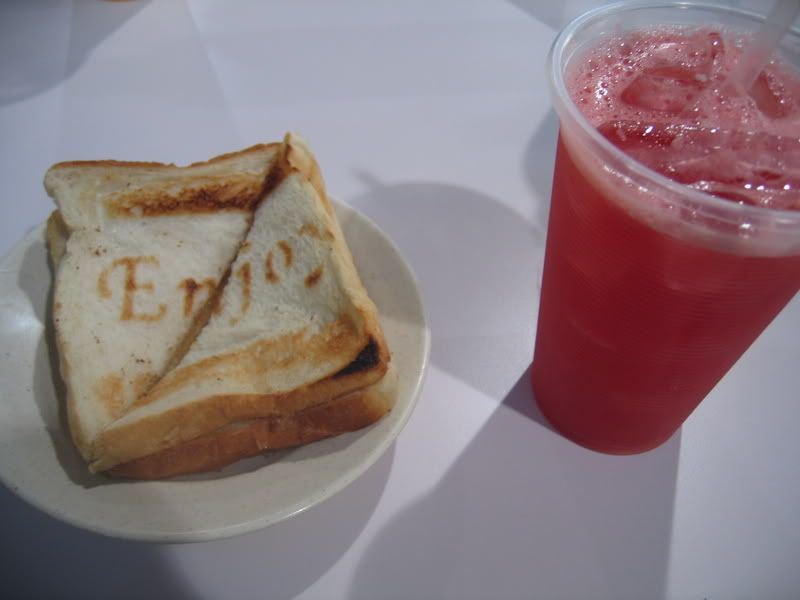 The usual breakfast.. Toast with kaya spread (YUMMY spread that I will bring home for everyone to try!) and fresh watermelon juice. All for $1.00 USD.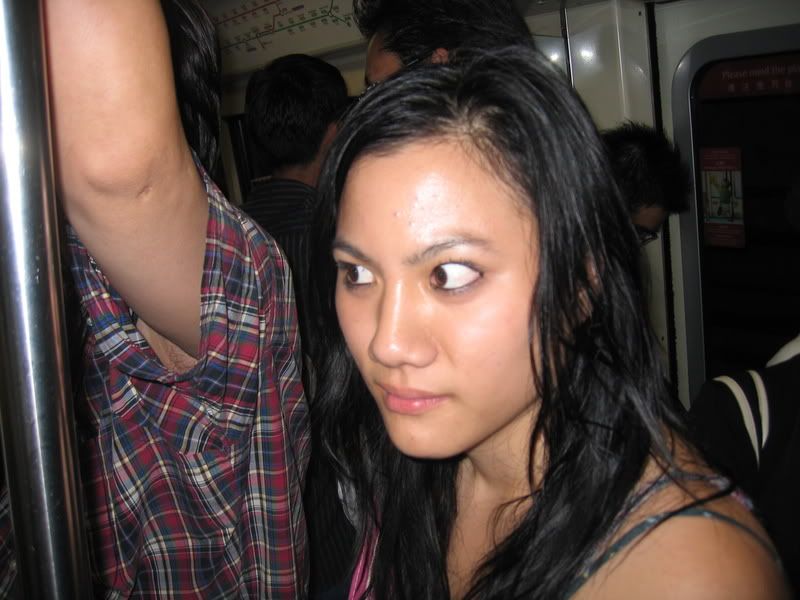 We endured it for over 20 minutes on the train..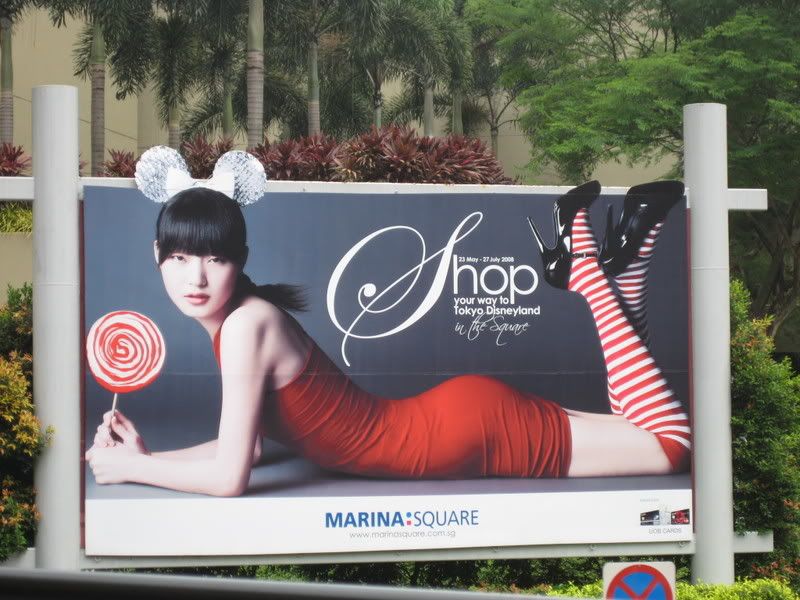 And last but not least, skanky Singapore billboard ad!
Updates on Sentosa Island and our amazing trip at Tioman Island in Malaysia to come soon. Look out for it!